Reading Time:
3
minutes
Test automation is the most popular and trending topic and has sparked a lot of debate, certainly for good reasons. Automation is known for its rapid growth and continuous innovation. The past few years have amplified the use of automation across various business verticals and helped them reap its benefits. Automated testing has also transformed the testing domain and has proven an area that any software testing professional would like to explore.
Top 10 automation trends for 2022
1. Cloud-based Testing: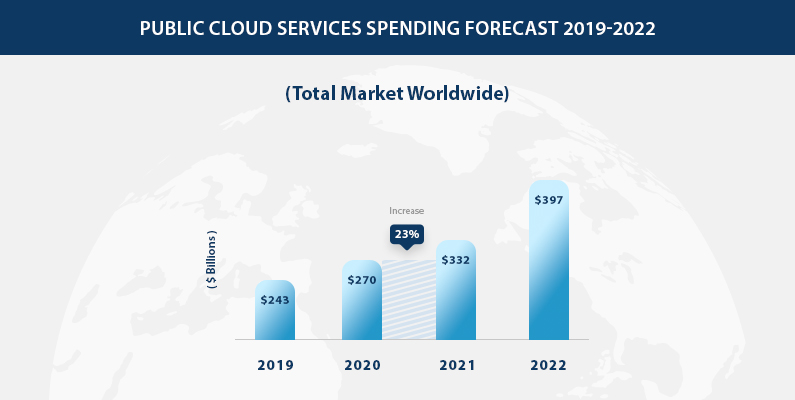 Cloud infrastructure testing will be crucial in the following years, and most firms will welcome it. In the Covid era, cloud infrastructure testing has increased substantially, suggesting that testing may be done in a remote environment without a big fleet of on-premises hardware or virtual machines. As per Gartner, worldwide end-user spending on public cloud services across the world is expected to grow 19.6% in 2022 to total $397.5 billion, increasing from $332.3 billion in 2021.
2. Low-Code Automation:
Automation testing will witness the evolution of codeless testing and will be the most preferred choice. According to Future Market Insights, the current valuation of the codeless testing market is $1.5 billion, with demand expected to increase at a CAGR of 15.5 percent between 2021 and 2031. Codeless automation enables the tester with no or limited programming knowledge to create test scripts quickly and easily without writing a single line of code. Test automation tools like TestingWhiz help speed up the testing process while increasing efficiency, accuracy, and scalability.
3. Integration with CI/CD tools:
CI/CD pipelines support continuous pushing of repeated code changes to development, testing, and deployment and ensure an ongoing flow of new features and bug fixes via the most efficient delivery method. Integration with CI/CD tools helps you keep pace with the flow of integrations and deployments on a continued basis and promises a significant ROI.
4. Data-driven test automation:
Adding, deleting, and modifying datasets is essential for product development. However, writing test scripts for such large datasets is a time-consuming and tedious task. Data-driven testing emerges as a savior in this situation, allowing testers to manage large amounts of data in tables. It also allows the testers to create test scripts with reusable components that may be executed endlessly with varied data sets.
5. API testing tools:
API testing is a vital aspect of the automated testing process. It is a part of integration testing that examines the programming interface or business logic layer of any application. It detects the bug at an early stage before it can affect the GUI, thus saving the company's time and money. As a result, API automation testing will rise in the coming years.
6. Cross-Browser Testing:
Cross-browser testing is the most painful element for any tester when it comes to testing a website on various browsers, browser versions, operating systems, devices, etc. In such cases, the test automation tool can resolve cross-browser compatibility issues and deliver a better user experience.
7. Mobile Test Automation:
The mobile market is massive and multiplying rapidly. Mobile apps are business drivers for most businesses. As a result, it's imperative that the app loads quickly and provides an excellent user experience and performance. To accomplish this, a tester must successfully test every OS version, device, and combination, which is an incredibly challenging task. Hence, in such cases, codeless test automation tools such as TestingWhiz can help you take your mobile test automation to the next level.
8. Desktop Automation:
The software testing market has evolved over the decades, with many applications now being web or mobile-based. Despite this, desktop test automation cannot be ignored as few firms depend primarily on desktop applications to carry out their most critical business operations. Desktop test automation allows you to build, manage, and run automated tests on various platforms, including WinForms, WPF, Windows Universal Applications, Win32, etc.
9. Migration:
Selenium is a well-known automated testing tool in the testing community. However, the lengthy integration process and extensive programming skills needs of Selenium are significant roadblocks for testing teams. With all these challenges, there is a concern that existing Selenium Test suites may be lost after migration to a codeless automation platform. TestingWhiz overcomes these challenges by allowing seamless migration of Selenium test suites and writing Selenium codes directly into the Java editor.
10. End-to-end testing:
End-to-end testing ensures that an application works as intended from beginning to end, from the front-end to the back end, and validates application integration with external interfaces. Codeless test automation tools enable end-to-end test automation for Web, Mobile, Web Services, Regression, Cross browser, and Database Testing.
Wrapping Up
Every testing expert, company, and team should keep an eye on these new automated testing developments in 2022. By adopting automation testing, organizations can gain a competitive edge over others and experience significant revenue growth.
Our TestingWhiz experts can assist in planning a test automation roadmap and make your testing journey code-free and effortless.
This post first appeared on Cygnet Infotech